Gift Guide Information
The holidays are fast approaching and figuring out gifts to get those tiny people in your life can be challenging. To help with those challenges, I have created a series of Gift Guides. There will be one for babies up to 1, toddlers (age 1-3), preschoolers (3-5), and mamas. Included in the guides will be gender neutral toys, activities, products, etc. I will provide you with links to those products to help make shopping even easier! This is the first in the series: Gifts for Babies. Not only will these gift guides help during the holiday season, but you can use them all year long for birthdays and other gift-giving events. Enjoy!
This post contains affiliate links.  I receive a small percentage of each sale made using my links, at no cost to you. For more information, see my disclosures here.
The Gifts!
Baby Einstein Take Along Tunes Musical Toy
Lots of mamas swear by this thing and always take it with when they leave home. It is easy for baby to hold onto and small enough to fit in the diaper bag super easily.
Summer Infant Pop N' Jump Portable Activity Center
This is great for outdoorsy families! It has the sunshade to protect baby's skin from the sun and a mat to keep baby's feet out of the grass. It also comes with a carrying bag for easy travel. You can't go wrong with this one!
Green Toys Baby Toy Starter Set (First Keys, Stacking Cups, Elephant)
I would consider myself a somewhat "crunchy" mama, so when another mama recommended these, I was excited! They are made in the USA with 100% recycled material. These toys are safe & non-toxic (no BPA, Phthalates or PVC). Parents can feel good about their baby playing with these.
VTech Sit-to-Stand Learning Walker – Pink – Online Exclusive

This was a favorite in our house! Not only is it great to encourage walking, but it says colors, shapes, animal sounds, and plays music. My daughter LOVED this toy! You can purchase it in orange (gender neutral), pink, and blue. We went with the orange option because it was a few dollars cheaper. I'm also not a big fan of the stereotype that girls like pink and boys like blue. The pink walker is pictured above, but all three options can be found on Amazon.
Aren't gifts for babies so fun?
This is another big favorite in our house. My daughter still uses this daily, at 17-months old. It can be used as just the floor mat for little babies, with the seat for older babies, and for babies that are pulling themselves up and/or walking, you can remove the seat all together. My daughter runs through it all the time. We love it!
Update: I'm currently unable to find the exact piano that we purchased on Amazon. I highly recommend this item, so if you have time I would search high and low for it. It was truly a lifesaver for us from about 4-5 months on. We just recently moved it out of our 19 month old daughter's play area.
Ziggy Baby Muslin Swaddle Blankets, 47×47 (3 Pack) Chevron, Arrow, Cross, Grey/White
Swaddle blankets are a wonderful thing! Not only can you swaddle your babies with them, but they can be used as a nursing cover, a light summer blanket, a play space on the ground, etc. I LOVE swaddle blankets! I think they are adorable and they serve soooo many purposes, other than swaddling your baby. We have quite a few and they are a staple in our diaper bag during the summer!
More fun!
Baby Books
Books are another wonderful gift for babies! Board books are especially great. They are more durable and can handle the drool that comes with babies. Here are some of our favorites!


We especially love the "That's not my…" series that was created by Usborne Books. I just recently got a new one called "That's not my unicorn." I mean, how adorable!
Take-Along Safari Mat by Melissa and Doug. Great Gift Idea at MelissaAndDoug.com
This is a super fun play mat for little ones. The animals are soft and squishy and can be cuddled. They are a great way to introduce some animal sounds and eventually are great for imaginary play. I love Melissa and Doug toys for all different age groups. They are high quality and educational. You can't go wrong with one of them.
My Favorite Items!
The Mini Mat: Perfect to Take With You for Dinners Out & Travels
We own two of these Mini Mats and two of their Happy Bowls. Baby can't throw their plate on the floor! What's more to love? They come with a really nice storage bag, so you can throw it into the diaper bag or in the car. These are truly one of my most favorite baby items ever. Someday soon, we'll be graduating up to the Happy Mat, which has larger portions. ezpz also just released their Care Bears collection which is adorable!
The Ergobaby Omni 360 Baby Carrier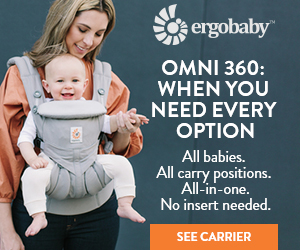 We have an older Ergo baby carrier that we used A LOT when Piper was a baby. We had to get the infant insert with ours, so that is a huge plus with the Omni 360. Another awesome feature of this carrier is that you can carry baby facing outward. While I'm typically not for outward facing babywearing due to lack of hip support for baby, the Omni 360 carrier puts baby in the correct position, so it's safe for baby's hips. Baby's legs should always be in an "M" or "frog let" position. The Omni 360 supports the thighs so baby's legs aren't just dangling.
Babywearing is awesome for mama and daddy, too. They can wear baby hands-free, so they can accomplish whatever task they need to.
Time to Shop the Holiday Gift Guide!
Now it's time to shop! But before you do, make sure you sign up for my FREE printables library! You'll find printable activities for kids, home management printables, motivation and inspiration printables, and more. Click HERE to gain access! Make sure you come back to check out the holiday gift guide for toddlers, preschoolers, mamas, and daddies.